For a special lunch, serve topped with your favourite grilled cheese sandwich, cut into croutons – perfect comfort food.
---
Recipe Yield: 4, 1½ cups (360 mL) | Prep Time: ½ Hour | Cooking Time: 40 Min.
---
INGREDIENTS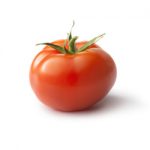 3 tbsp (45 mL) olive oil
1 medium sweet onion, diced (127 g)
3 cloves garlic, minced
3 ½ lb. (1.6 kg) your favourite greenhouse tomatoes (we used 8 large ripe red Beefsteak tomatoes), peeled, seeded and chopped
2 cups (480 mL) quality vegetable stock (for vegetarian version) or chicken stock
A few sprigs fresh basil
A 1 tsp (5 mL) each salt and pepper
½ cup (120mL) 35% cream or non-dairy milk (for vegan version), optional
INSTRUCTIONS
Heat olive oil in a stockpot over low-medium heat. Add onion and cook stirring frequently until onion is translucent, about 10 minutes. Add garlic and continue cooking for another 5 minutes.
Add peeled, seeded and chopped tomatoes with their juices. Add stock and basil sprigs with half the salt and pepper and bring to a boil; reduce heat and simmer uncovered until slightly thickened about 25-30 minutes. Puree with a stick blender. Return to simmer for an additional 5 minutes.
Add in cream or milk, if using, and heat through about 2 minutes. Do not boil.
Taste and re-season with remaining salt and pepper, if required.
Serve immediately garnished with fresh chopped basil and grilled cheese croutons, if using.
Keeps for a few days in the fridge or can be frozen for up to 3 months.
Chef's Tip:
this soup is quite creamy even without the cream or non-dairy milk. Omit if you prefer as the taste will still be excellent!
Contact Us
308 Talbot St. E.
Leamington, ON
Canada N8H 3V6
PHONE 519.326.2339
FAX 519.326.3627