Distinctive vegetable flavours fill this fantastic favourite when you use delicious Ontario Greenhouse produce.
---
Recipe Type: Entree | Recipe Yield: 4 Servings | Prep Time: 30 Min. | Cooking Time: 30 Min.
---
INGREDIENTS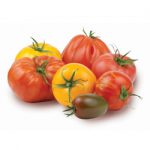 4 Ontario greenhouse heirloom tomatoes, seeds and flesh removed – roughly chopped
2 tbsp. (30 ml) red wine vinegar
1 cup (250 ml) virgin olive oil
9 oz. (255 g) crumbly ricotta cheese
2 tbsp. (30 ml) extra virgin olive oil
1 dried chili, crumbled
1 tsp. (5 g) dried oregano
7 tbsp. (105 g) salted butter
1 – 2 handfuls of freshly grated Parmesan cheese plus a block for grating
1 large bunch of fresh basil leaves
Salt and pepper to taste
RISOTTO
4 tbsp. (60 g) butter
2 tbsp. (30 ml) olive oil
1 medium sized onion, thinly sliced and cubed
12 oz. (225 g) risotto
4 cups (1 L) vegetable or chicken stock
INSTRUCTIONS
Preheat the oven to 350°F/177°C.
Marinate the tomatoes in the red wine vinegar, olive oil and a dash of salt and pepper.
Place ricotta in a small baking pan, rub the cheese with extra virgin olive oil and sprinkle the dried chili and oregano over the cheese, season it with salt and pepper and place in the preheated oven for 10 minutes, until golden brown.
RISOTTO INSTRUCTIONS
Brown the onion in the olive oil in a medium-sized saucepan until golden brown.
On medium heat add the risotto and stir with a wooden spoon for a few minutes.
Pour in 3 cups of stock until the rice is completely covered. Cook on medium heat.
As the rice absorbs the stock add in ¾ of the tomato basil mixture and the remainder of the stock, bring to a gentle boil until the rice is cooked. Stirring all the time until rice mixture is creamy, not soupy. The overall texture should be slightly loose.
Turn off heat, beat in the butter and parmesan cheese, tear up the large basil leaves and place into mixture leaving the smaller leaves for garnishing.
Add salt and pepper to taste.
Stir in baked ricotta and remainder of tomato basil mixture; put a lid on the pan to rest, 5 minutes.
Prior to serving, garnish with remaining basil leaves, sprinkle Parmesan cheese and drizzle with a little extra virgin olive oil.
Contact Us
308 Talbot St. E.
Leamington, ON
Canada N8H 3V6
PHONE 519.326.2339
FAX 519.326.3627