Spiralized


Cucumber Salad
This miso cucumber salad comes together quickly and is perfect for potlucks! Cucumbers tossed with a miso dressing that's slightly nutty and a tad spicy.
---
Recipe Yield: 6 Servings | Prep Time: 15 Min. | Cooking Time: None
---
INGREDIENTS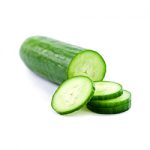 GINGER-MISO DRESSING INGREDIENTS
3 tbsp. (45 mL) miso paste
2 tbsp. (30 mL) minced fresh ginger
2 tbsp. (30 mL) rice wine vinegar
1 tbsp. (15 mL) soy sauce or tamari
1 tbsp. (15 mL) honey
2 tbsp. (30 mL) canola oil
1 tbsp. (15 mL) sesame oil
SALAD INGREDIENTS
1 large carrot
2 large Ontario Greenhouse Seedless Cucumbers
1 tsp. (5 mL) salt
1 ½ cups (375 mL) cups shelled edamame
3 green onions, thinly sliced and divided
1 tsp. (5 mL) toasted sesame seeds
INSTRUCTIONS
GINGER-MISO DRESSING INSTRUCTIONS
Whisk together miso, ginger, vinegar, soy sauce and honey until smooth; slowly whisk in canola and sesame oil until blended.
SALAD INSTRUCTIONS
Using a spiralizer, turn carrot into long strands, trimming with clean kitchen shears, if needed. Repeat with cucumber. Toss cucumber with salt; let stand for 10 minutes. Place cucumber on clean tea towel; roll up and twist to release excess moisture.
Toss cucumbers, carrot, edamame and half of the green onions with dressing. Before serving, garnish with remaining green onions and sesame seeds.
Chef's Tip:
Add 2 tbsp (30 mL) fresh chopped herbs, such as cilantro or mint, to the salad if desired. A spiralizer is also known as a spiral slicer or vegetable turning slicer. They're available at kitchenware or department stores, or can be ordered online.
Contact Us
308 Talbot St. E.
Leamington, ON
Canada N8H 3V6
PHONE 519.326.2339
FAX 519.326.3627