Shakshuka loosely translates to "all mixed up" in Arabic, and hints at the potent spice and exotic flavors. Try this one-pot-wonder and have breakfast for dinner.
---
Recipe Yield: 6 Servings | Prep Time: 10 Min. | Cooking Time: 35 Min.
---
INGREDIENTS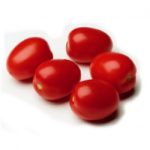 2 tbsp. (30 mL) olive oil
1 onion, finely chopped
4 cloves garlic, minced
1 tsp. (5 mL) paprika
1 tsp. (5 mL) ground cumin
1 tsp. (5 mL) salt
¼ tsp. (1 mL) hot pepper flakes
pinch cayenne pepper
¼ cup (60 mL) tomato paste
5 cups (1.25 L) coarsely chopped Ontario Greenhouse Roma Tomatoes
8 eggs
⅓ cup (75 mL) crumbled feta cheese
2 tbsp. (30 mL) finely chopped fresh cilantro
6 small pita breads, warmed
INSTRUCTIONS
Preheat oven to 400°F (200°C). Heat oil in high-sided ovenproof skillet set over medium heat; cook onion, garlic, paprika, cumin, salt, hot pepper flakes and cayenne, stirring occasionally, for 3 to 5 minutes or until vegetables start to soften.
Stir in tomato paste; cook for 1 minute. Add tomatoes; cook, stirring occasionally, for 20 to 25 minutes or until thickened. Using back of spoon, make 8 divots in the sauce mixture; crack an egg into each divot. Baste each egg with a little of the tomato sauce.
Transfer to oven; cook for 5 to 7 minutes or until eggs are soft-cooked or until desired doneness. Garnish with feta and cilantro.
Serve with pita bread.
Chef's Tip:
Substitute parsley for cilantro if desired. Use smoked paprika for more intense flavour.
Contact Us
308 Talbot St. E.
Leamington, ON
Canada N8H 3V6
PHONE 519.326.2339
FAX 519.326.3627