Smokey Tomato


Beef Brisket
The classic comfort food with a kick!
---
Recipe Yield: 4 Servings | Prep Time 20 Min. | Cook Time 2-3 Hrs.
---
INGREDIENTS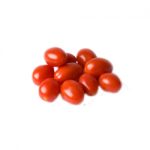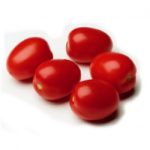 3 tbsp (45 ml) – Olive Oil
1 – Fresh Finger Chili seeded & Sliced
2 – Medium Onions diced
1 lb (454 gm) – Grape Tomatoes halved
2 tbsp (30 ml) – Smoked Paprika
2-3 lb (1-1.5 kg) – Beef Brisket trimmed of excess fat Kosher Salt & Freshly Ground Pepper
2 – Carrots peeled & diced 1 – Celery Stalk diced
2 lb (1 kg) – Roma Tomatoes halved
4 cups (1 liter) – Beef or Chicken Broth
INSTRUCTIONS
Preheat the oven to 325 Deg. F
Heat the oil in a skillet over medium heat. Add the chili, half the onions, grape tomatoes and smoked paprika. Cook until brown, then remove from the heat and cool.
Season the brisket generously with salt and freshly ground pepper and put in a roasting pan. Add the carrots, celery, tomatoes and remainder of onions.
Press the onion chili mixture on top of the brisket to form a crust.
Pour enough stock to cover ¾ of the brisket but be sure not to cover the crust.
Cover the pan with aluminum foil and transfer to the hot oven. Cook for approx. 2-3 hours basting every 30 minutes. Once tender remove from the oven, uncover and let cool in the braising liquid for 2 hours or even better, overnight.
Contact Us
308 Talbot St. E.
Leamington, ON
Canada N8H 3V6
PHONE 519.326.2339
FAX 519.326.3627