Pair the succulent taste of sirloin beef with the crisp, fresh flavour of greenhouse vegetables in this satisfying salad. Enjoy this as a side dish or main course any day of the week!
---
Recipe Type: Salad | Recipe Yield: 6 Servings | Prep Time: 10 Min. | Cooking Time: 20 Min.
---
INGREDIENTS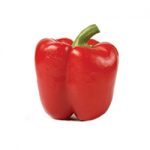 1 head romaine lettuce, washed in cool water
1 head of leaf lettuce, washed in cool water
7 tbsp. (105 ml) extra virgin olive oil
2 ⅓ tbsp. (40 ml) balsamic vinegar
2 tbsp. (30 ml) heavy cream
2 tbsp. (30 g) blue cheese, crumbled
2 hard boiled eggs, finely chopped
2 slices of crisp cooked bacon, crumbled
1 Ontario greenhouse red bell pepper, seeded and diced
6 oz. (170 g) sirloin tip, grilled and sliced
4 tbsp. (60 g) fresh chives cut into even pieces
¼ tsp. (2 g) fresh ground pepper
INSTRUCTIONS
Mix olive oil and vinegar (3 parts olive oil, 1 part vinegar), add cream and crumbled blue cheese, and whisk until smooth.
Add fresh ground pepper and stir in half of the hard boiled egg, bacon and chive pieces.
Arrange the lettuce in a salad bowl, pour the dressing and toss well.
Garnish with remaining chopped egg, bacon, red pepper and chives.
Top with sliced sirloin beef.
Contact Us
308 Talbot St. E.
Leamington, ON
Canada N8H 3V6
PHONE 519.326.2339
FAX 519.326.3627