Pickles are a great addition to any meal. These sweet and slightly crunchy pepper pickles are so easy to make and are ready to eat almost right away. Make them with the three colours mixed together or each colour separately. For an attractive presentation offer three different colours in mason jars.
---
Recipe Yield: 6 Servings: ½ cup (120 mL) each | Prep Time: 15 Min. | Cooking Time: 5 Min.
---
INGREDIENTS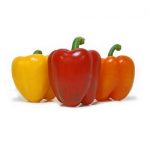 ¾ cup (180 mL) white vinegar
¾ cup (180 mL) water
¾ cup (180 mL) granulated sugar
1 ½ tsp. (7.5 mL) salt
3 Ontario Greenhouse Peppers, Red, Yellow, Orange
¼ cup (60 mL) sweet onion
1 tbsp. (15 mL) fresh jalapeño pepper
INSTRUCTIONS
For the dressing, combine vinegar, water, sugar and salt in a small pan and heat to dissolve the sugar. Set aside to cool.
Cut peppers and onions into julienne slices. Seed and mince the jalapeño. Combine all vegetables.
Once dressing has cooled, pour over the pepper mixture and toss gently. Refrigerate for a minimum of 30 minutes.
Keeps for several days in the refrigerator. Serve within 24 hours for the best crunch!
Contact Us
308 Talbot St. E.
Leamington, ON
Canada N8H 3V6
PHONE 519.326.2339
FAX 519.326.3627