This delicious pepper quiche recipe makes a welcomed change to breakfast, lunch or a light dinner. It is simple to make and will appeal to all family members.
---
Recipe Type: Entree | Recipe Yield: 4 Servings | Prep Time: 15 Min. | Cooking Time: 1-¼ Min.
---
INGREDIENTS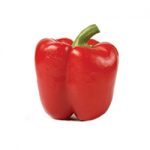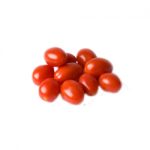 4 Ontario greenhouse red bell peppers
6 Ontario greenhouse grape tomatoes
6 large eggs
½ cup (120 mL) 2% milk
1 cup (240 mL) shredded cheese
1 green onion
Salt and black pepper to taste.
INSTRUCTIONS
Wash the peppers, cut off the tops approximately ½ below the stem; remove seeds and ribs. Save the tops to dice for filling. If peppers don't sit up straight, trim a very thin piece off the bottom of the peppers to allow them to sit upright in the baking pan (be careful not to make a hole as the filling will ooze out).
Place hollowed peppers in a baking dish and roast empty at 400°F (200°C) for ½ hour. Slice grape tomatoes in half and roast the halved grape tomatoes at the same time until sizzling. After roasting, cool peppers and tomatoes.
In the meantime, dice the trimmed pepper tops and combine with whisked eggs, milk and half the cheese. Mix well. Season to taste with salt and pepper.
Place cooled peppers in a baking dish; ladle the egg mixture into the peppers and garnish with remaining shredded cheese. Tuck 3 halves of roasted grape tomato into each pepper. Pour a small amount of water into the bottom of the baking dish.
Bake in preheated 375°F (190°C) oven until eggs are cooked through and peppers are soft and slightly charred on top (approximately 30 minutes). To get the cheese bubbly on top you may need to turn on the broiler for the last 5 minutes of cooking.
Remove from oven, serve immediately and top with diced green onion.
Contact Us
308 Talbot St. E.
Leamington, ON
Canada N8H 3V6
PHONE 519.326.2339
FAX 519.326.3627