This flavourful Pepper Medley mixture is easy to make but needs long slow cooking to "melt" the vegetables in the olive oil and make them super yummy! It is great served under poached or scrambled eggs and just as a side dish, topping or filling for just about anything.
---
Recipe Type: Entree | Recipe Yield: 8 Servings | Prep Time: 30 Min. | Cooking Time: 45 Min.
---
INGREDIENTS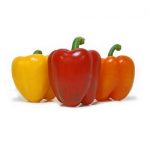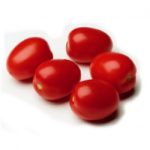 ½ cup (120 mL) olive oil
1 ½ cups (360 mL) cooking onions
2 tsp (10 mL) fresh garlic
2 Ontario greenhouse red bell peppers
2 Ontario greenhouse yellow bell peppers
2 Ontario greenhouse orange bell peppers
6 Ontario greenhouse roma tomatoes
¼ cup (60 mL) flat leaf parsley for garnish
1 tsp (5 mL) granulated sugar
¼ tsp (1 mL) cayenne pepper
½ tsp (3 mL) black pepper
1 tsp (5 mL) salt
INSTRUCTIONS
Heat olive oil in a large skillet over medium heat.
Slice onions, garlic and julienne cut peppers. Chop parsley and set aside for garnish.
Add the onion, garlic and peppers to the pan with salt, pepper and cayenne. Cover and cook slowly at a simmer for half an hour or until the peppers are becoming very soft, stirring from time to time. If this vegetables start to stick to the pan, add a little water.
In the meantime, blanch the tomatoes in boiling water for a couple of minutes. Run them under cold water to cool down and remove the skin. Cut in half and squeeze out the seeds and excess juice. Cut the remaining part of the tomatoes into julienne slices and add to the pan with the peppers. Season with sugar.
Continue cooking slowly for another 15 minutes uncovered until most of the moisture has evaporated.
Serve warm or at room temperature, garnished with chopped parsley.
Contact Us
308 Talbot St. E.
Leamington, ON
Canada N8H 3V6
PHONE 519.326.2339
FAX 519.326.3627