Mexican Quinoa Stuffed


Bell Peppers
Loaded with healthy protein, veggies and great flavour, these stuffed peppers provide the nutrition your family needs for a healthy, balanced meat-free meal. For the meat eaters, offer a grilled chicken breast or fish on the side.
---
Recipe Yield: 6 servings | Prep Time: 20 Min. | Cooking Time: 30 Min.
---
INGREDIENTS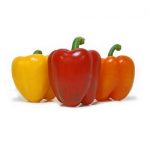 6 Ontario Greenhouse bell peppers (red, yellow or orange)
3 cups (720 mL) cooked quinoa
1 fresh jalapeño, diced
1 cup (240 mL) corn niblets
1 cup (240 mL) canned black beans, drained and rinsed
½ cup (120 mL) shredded pepper jack cheese (milder cheese can be substituted for less heat)
⅓ cup (90 mL) finely diced peppers
3 tbsp (45 mL) chopped cilantro
1 tsp (5 mL) ground cumin
1 tsp (5 mL) garlic powder
½ tsp (3 mL) onion powder
½ tsp (3 mL) chili powder
½ tsp (3 mL) each salt and pepper
INSTRUCTIONS
Preheat oven to 350 degrees. Line a 9 x 13 baking dish with parchment paper or spray with oil spray.
Wash the peppers, cut off the tops approximately ½" below the stem; remove seeds and ribs. Save the tops and roast along with the whole peppers. Trim a very thin piece off the bottom of the peppers to allow them to sit upright in the baking pan (be careful not to make a hole as the filling will ooze out).
Place peppers in baking dish; roast for ½ hour empty. Remove from oven.
In the meantime in a large bowl, combine quinoa, jalapeño, corn, beans, cheese (retain a little for topping), cilantro, cumin, garlic, onion and chili powder; salt and pepper to taste.
Spoon the filling into each bell pepper half. Top with the remaining cheese.
Bake until peppers are tender and filling is heated through, approximately 30 minutes.
Serve immediately.
Contact Us
308 Talbot St. E.
Leamington, ON
Canada N8H 3V6
PHONE 519.326.2339
FAX 519.326.3627