Mac & Cheese Stuffed


Mini Peppers
This is very simple and quick to make. Great as an after school snack for kids but also wonderful party food!
---
Recipe Yield: 12 pepper halves | Prep Time: 10 Min. | Cooking Time: 20 Min.
---
INGREDIENTS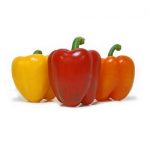 6 mini Ontario Greenhouse peppers
¾ cup (180 mL) prepared macaroni and cheese
¼ cup (60 mL) shredded cheddar cheese
Optional garnishes: parsley, green onion, diced tomato
INSTRUCTIONS
Wash the peppers, cut in half; remove seeds and ribs. Trim a very thin piece off the bottom of the peppers to allow them to sit upright in the baking pan (be careful not to make a hole as the filling will ooze out).
Fill the centre of each pepper half with approximately 1 tbsp (15 mL) prepared macaroni and cheese. Top each half with 1 tsp (5 ml) shredded cheese
Bake in preheated 350 degree oven until the pepper is softened and the macaroni and cheese is bubbling.
Remove from oven, cool slightly; garnish if desired with one or all of the optional garnishes.
Chef's Tip:
For more adult taste fill the pepper halves with decadent pasta with bolder cheeses in the sauce.
Contact Us
308 Talbot St. E.
Leamington, ON
Canada N8H 3V6
PHONE 519.326.2339
FAX 519.326.3627