This is a very zesty condiment or salad reminiscent of Korean cabbage Kimchi in flavour. Not for the faint of heart, this dish can be very addictive for those who like bold flavours. Great served as a side with grilled meats.
---
Recipe Yield: 6-8 Servings as a side dish or topping | Prep Time: 15 Min. | Cooking Time: None
---
INGREDIENTS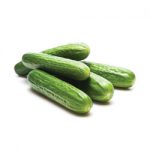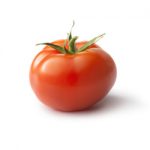 2 Ontario Greenhouse Beefsteak tomatoes, approximately 570 g cored, then chopped into ½" pieces (2 ⅔ cups)
4 Ontario Greenhouse mini cucumbers, chopped into ½" pieces
1 cup (240 mL) diced Spanish onion (113 g) or other sweet onion
1 tbsp (15 mL) minced garlic
1 tsp (5 mL) minced fresh ginger
½ cup (120 mL) seasoned rice vinegar
1 tbsp (15 mL) granulated sugar
1 tsp (5 mL) cayenne pepper
1 tsp (5 mL) paprika
1 tsp (5 mL) salt
¾ cup (180 mL) green onions, white and light-green parts, cut on the diagonal
INSTRUCTIONS
Combine the tomatoes, cucumber, Spanish onion, garlic, ginger, vinegar, sugar, cayenne, paprika and salt in a large resealable plastic food storage bag. Seal and massage to coat evenly. Refrigerate for at least 1 hour and up to overnight. If desired, drain off some, but not all, of the liquid.
Before serving, stir in the green onions.
Best served the day prepared but keeps for up to 2 days in the refrigerator.
Contact Us
308 Talbot St. E.
Leamington, ON
Canada N8H 3V6
PHONE 519.326.2339
FAX 519.326.3627