Our globally inspired Indian Bruschetta is a wonderful way to capture the flavour of ripe tomatoes as a popular appetizer.
---
Recipe Yield: 12 ½ cup (120mL) servings | Prep Time: 15 Min. | Cooking Time: 5 Min.
---
INGREDIENTS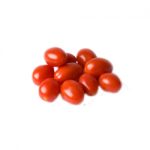 1 baguette
3 tbsp milk
2 tbsp canola oil, divided
4 Ontario Greenhouse Grown tomatoes, cubed (Any variety of tomatoes works. Aim for 4 cups)
¼ red onion, finely chopped
1 clove garlic, minced
1 tsp minced fresh thyme
⅛ tsp salt
INSTRUCTIONS
Toast coriander and cumin seeds in a dry pan. When cool, grind to a fine powder.
Combine ginger, jalapeño, lime juice, olive oil, cayenne, salt and sugar, set aside.
Cut tomatoes into bite-sized pieces and set aside. Chop cilantro and mint.
Gently combine tomatoes with dressing, cilantro, mint and ground spice mixture.
Serve bruschetta with toasted flatbread.
Contact Us
308 Talbot St. E.
Leamington, ON
Canada N8H 3V6
PHONE 519.326.2339
FAX 519.326.3627