Delicious soup with summer flavours served hot for those cold winter days… spice it up with our Crunchy Cucumber Salsa.
---
Recipe Type: Soup | Recipe Yield: 6 Servings
---
INGREDIENTS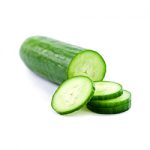 1 ½ large Ontario Greenhouse Seedless Cucumbers, diced, should yield 5 ½ cups
1 medium cooking onion, chopped (about 1 cup (240 mL))
2 tbsp (30 mL) finely diced fresh jalapeño (1 whole)
5 tbsp (75 mL) butter
3 ¾ cups (900 mL) good quality chicken stock (vegetable stock for a vegetarian option)
1 ½ tsp (8 mL) salt
¼ tsp (1 mL) pepper
½ cup (120 mL) whipping cream
INSTRUCTIONS
Melt butter in a medium saucepan over medium heat. Add onion, jalapeño and stir until onions are translucent. Add diced cucumber and continue cooking for an additional 5 minutes.
Pour in stock and bring to a boil. Reduce heat and simmer for approximately 20 minutes covered until the cucumber is soft.
Puree the soup in batches in a blender (or use a hand held blender right in the saucepan).
Return pureed soup back in the saucepan and add cream. Heat over low heat. Taste and season with salt and pepper.
Contact Us
308 Talbot St. E.
Leamington, ON
Canada N8H 3V6
PHONE 519.326.2339
FAX 519.326.3627