This Eastern European style cucumber salad is very refreshing and a great accompaniment to grilled fish and meat or as part of a composed salad plate. It is easy to make and very tasty.
---
Recipe Yield: 4 cups (960 mL) | Prep Time: 30 Min. | Cooking Time: None
---
INGREDIENTS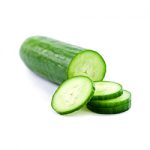 SALAD INGREDIENTS:
3 cups (720 mL) Ontario Greenhouse Seedless Cucumbers, cut in chunks or half slices (not necessary to peel or seed)
½ cup (120 mL) thinly sliced red onions
¼ cup (60 mL) plain full-fat Greek yogurt or full-fat sour cream
2 tbsp (30 mL) fresh chopped dill
4 tsp (20 mL) cider or white wine vinegar
2 tsp (10 mL) granulated sugar
½ tsp (3 mL) garlic powder
1 tsp (5 mL) salt
¼ tsp (1 mL) black pepper
GARNISH
1 tbsp (15 mL) fresh chopped dill
INSTRUCTIONS
Soak onion in cold water for 15 minutes to remove the strong raw flavour. Drain well and pat dry.
In a bowl, whisk together yogurt or sour cream, dill, vinegar, sugar, salt, garlic powder and black pepper. Add cucumber and onion. Toss to coat.
Garnish with chopped dill.
Chef's Tip:
Best served immediately after dressing is added. Can refrigerate for up to 2 days. If you prefer creamier salad, add more yogurt or sour cream and adjust seasonings to taste.
Contact Us
308 Talbot St. E.
Leamington, ON
Canada N8H 3V6
PHONE 519.326.2339
FAX 519.326.3627