Clam Chowder is the ultimate comfort food. A big bowl of tomato creamy broth with hint of thyme, white wine and delicate clam bites sings to your taste buds.
---
Recipe Type: Soup | Recipe Yield: 4 Servings | Prep Time: 15 Min. | Cooking Time: 30 Min.
---
INGREDIENTS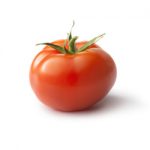 1 cup (250 g) onion, chopped
2 cloves garlic, chopped
1 tbsp. (15 ml) clarified butter
1 cup (250 g) celery, chopped
1 tsp. (5 g) dried thyme
¼ cup (63 g) unbleached white flour
1 cup (250 ml) water
2 cups (500 ml) clam juice
2 cups (500 g) fresh Ontario greenhouse tomatoes, chopped
2 pounds (908 g) fresh clams or 1 can with shucked clams and clam juice
1 ½ cup (375 ml) white wine
1 tsp. (5 ml) Worcestershire sauce
¼ cup (63 g) ground pepper
1 ½ cup (375 g) potatoes, peeled and diced
1 tsp. (5 g) ginger, minced
INSTRUCTIONS
Put the onions, garlic, ginger and clarified butter (or extra virgin olive oil) into a heavy pot, sauté on low heat for 2 minutes.
Add celery and thyme. Cook for 3 minutes, stirring occasionally.
Sprinkle flour on top of the vegetables. Pour the water and clam juice in slowly and use a whisk to break up any large clumps of flour.
Add the potatoes and then turn up heat to medium/high until mixture comes to a boil. Boil for 10 minutes before turning down heat.
Add the Ontario greenhouse tomatoes. Simmer and cover for 20 minutes or until the potatoes are cooked completely.
Put clams and wine in a large lidded pot and steam until the shellfish open up. Reserve the wine and clam juice. Discard any unopened shellfish.
Take the shellfish out of the pot and reserve a few for garnish. Add the clam meat and cooking liquid to the soup and cook for another 5 minutes.
Season with Worcestershire sauce, salt and pepper.
Contact Us
308 Talbot St. E.
Leamington, ON
Canada N8H 3V6
PHONE 519.326.2339
FAX 519.326.3627