Cinnamon Brochettes with


Cucumber Riata
This appetizer is sure to fill your home with warm spicy aromas. These delicious brochettes are infused with cinnamon as they cook on the grill.
---
Recipe Type: Appetizer | Recipe Yield: 6-8 Servings | Cooking Time: 15 Min.
---
INGREDIENTS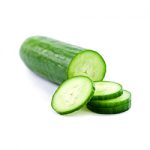 ½ pound (125 g) ground pork
½ pound (125 g) ground beef
½ pound (125 g) ground lamb
16 short cinnamon sticks
1 cup (250 g) Spanish onion, peeled and diced
½ cup (125 g) garlic, chopped
1 cup (250 g) parsley, chopped
½ cup (125 g) fresh thyme, chopped
½ tbsp. (8 g) dried oregano
½ tbsp. (8 g) dried basil
½ cup (125 g) chili flakes
Salt and pepper to taste
SECOND INGREDIENTS
1 ½ cups (375 ml) plain yogurt
½ cup (125 ml) sour cream
5 Ontario greenhouse seedless cucumbers, peeled, seeded and finely chopped
2 tbsp. (30 ml) fresh mint, finely chopped
Sprigs of mint for garnish
½ tsp. (3 g) ground cumin
¼ tsp. (½ g) cayenne pepper
Salt and pepper to taste
INSTRUCTIONS
Combine all ground meat, onions, herbs, garlic, chili flakes, salt and pepper.
Form the meat mixture into 2 oz. (56 g) oval balls and skewer each piece with one cinnamon stick.
Line the brochettes on a plate. Cover and refrigerate overnight.
Preheat your grill to a medium/high heat.
On a well oiled grill (to prevent sticking), place the cinnamon brochettes on the grill.
Ensure the cinnamon stick ends are not exposed to direct heat by placing a piece of foil on the grill under the sticks. Grill until cooked through.
Serve immediately with cucumber riata.
SECOND INSTRUCTIONS
In a medium mixing bowl, combine all ingredients together, cover and refrigerate.
Contact Us
308 Talbot St. E.
Leamington, ON
Canada N8H 3V6
PHONE 519.326.2339
FAX 519.326.3627