This colourful spicy entrée is fun to serve sizzling at the table, just like they do in restaurants.
---
Recipe Yield: 6 Servings | Prep Time: 15 Min. | Cooking Time: 10 Min.
---
INGREDIENTS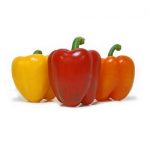 AVOCADO-LIME SOUR CREAM INGREDIENTS:
1 ripe avocado, peeled, pitted and mashed
½ cup (125 mL) sour cream
1 tsp. (5 mL) lime zest
2 tbsp. (30 mL) lime juice
¼ tsp. (1 mL) each salt and pepper
FAJITA INGREDIENTS:
2 tbsp. (30 mL) canola oil
1 ¼ lb (550 g) boneless skinless chicken breasts, cut into strips
½ tsp. (2 mL) salt
¼ tsp. (1 mL) pepper
2 Ontario Greenhouse Bell Peppers, cut into strips
1 red onion, thinly sliced
3 cloves garlic, minced
1 tbsp. (15 mL) cajun seasoning
12 corn tortillas, warmed
⅓ cup (75 mL) fresh cilantro leaves
lime wedges
INSTRUCTIONS
AVOCADO-LIME SOUR CREAM INSTRUCTIONS:
Stir together avocado, sour cream, lime zest, lime juice, salt and pepper; refrigerate until serving
FAJITA INSTRUCTIONS:
Heat oil in large skillet set over medium-high heat; cook chicken with salt and pepper, turning occasionally, for 3 to 5 minutes or until starting to brown.
Add peppers, onion, garlic and cajun seasoning; cook, stirring often, for 4 to 5 minutes or until chicken is cooked through and vegetables are tender-crisp.
Serve tortillas with chicken and pepper filling, avocado-lime sour cream, cilantro and lime wedges.
Chef's Tip:
A large cast-iron skillet is the perfect pan for cooking fajitas because it holds heat well. To serve with flair, bring cast-iron skillet to table while still sizzling and squeeze fresh lime juice over top. Substitute Tex Mex seasoning for Cajun seasoning if desired.
Contact Us
308 Talbot St. E.
Leamington, ON
Canada N8H 3V6
PHONE 519.326.2339
FAX 519.326.3627