Cherry Tomato


& Sweet Potato Galettes
This appetizer is best served warm and fresh.
---
Recipe Yield: 4 Servings | Prep Time: 1 Hr. | Cook Time: 30 Min.
---
INGREDIENTS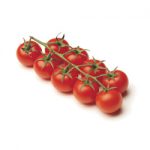 3 – Sweet Potatoes
8 oz (227 gm) – Puff Pastry
1 – Egg lightly beaten
6 tbsp (90 ml) – High fat sour cream
4 oz (112 gm) – Goat Cheese
1 lb (454 gm) – Cherry Tomatoes halved
1 – Finger Chili seeded and thinly sliced
1 tbsp (15 ml) – Olive oil
1 – Garlic Clove minced
1 tbsp (15 ml) – Flat leaf Parsley chopped
Kosher Salt & Freshly Ground Pepper
INSTRUCTIONS
Preheat the oven to 400F. Bake the sweet potatoes in their skins for 35-45 minutes until slightly soft but still firm in the middle. You can check this by inserting a knife into the center of the potato. Remove from the oven and let cool until easy to handle. Peel the sweet potatoes and slice into thin rounds.
On a lightly floured surface roll the puff pastry to bring to 1/16" thickness.
Cut into 3 even rectangles and prick the entire pastry with a fork.
Line a small baking sheet tray with parchment paper and transfer the pastry rectangles to the tray. Be sure to leave at least 2 inches between each pastry and leave to rest in the fridge for at least 30 min.
To assemble, remove pastry from the fridge and brush with egg. Spread an equal thin layer of cream cheese on each pastry leaving a 1/4 inch border. Arrange the sweet potato slices, cherry tomatoes, goat cheese and top with chilies.
Bake for 20-25 min until pastry is cooked through and golden. While the pastry is cooking, you can combine the garlic, olive oil, parsley and a touch of salt. As soon as the pastries come out of the oven, brush them with this mixture and season with freshly cracked black pepper and kosher salt.
Contact Us
308 Talbot St. E.
Leamington, ON
Canada N8H 3V6
PHONE 519.326.2339
FAX 519.326.3627