This fresh crunchy salad is a perfect side dish for grilled meat, poultry or fish and also pairs well with a sandwich for lunch. Simple to prepare, it keeps well in the refrigerator for a couple of days.
---
Recipe Yield: 8 ½ cup servings | Prep Time: 10 Min.
---
INGREDIENTS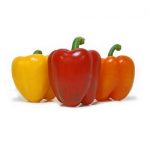 3 Ontario Greenhouse Peppers, Red, Yellow and Orange
½ medium red onion (125 g) cut in very thin strips
½ cup (120 mL) rice wine vinegar
1 tbsp. (15 mL) local Ontario honey
½ tsp. (2.5 mL) low sodium soy sauce
½ tsp. (2.5 mL) minced fresh ginger
Pepper to taste
2 tbsp. (30 mL) fresh cilantro
INSTRUCTIONS
Slice peppers and onions into julienned strips.
Combine vinegar, honey, soy sauce, ginger and pepper. Pour over pepper and onion strips and combine.
Let sit in the refrigerator for at least half an hour to develop flavour.
Before serving toss in chopped cilantro.
Contact Us
308 Talbot St. E.
Leamington, ON
Canada N8H 3V6
PHONE 519.326.2339
FAX 519.326.3627