Spice up the Creamy Cucumber Soup with this crunchy, fresh salsa.
---
Recipe Type: Appetizer | Recipe Yield: 6 Servings
---
INGREDIENTS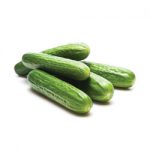 2 cups (480 mL) finely diced Ontario Greenhouse Mini Seedless Cucumbers
1/2 cup (120 mL) diced red onion
1/4 cup (60 mL) chopped fresh cilantro
1/4 cup (60 mL) chopped fresh mint
1 fresh jalapeño, finely diced
1 tbsp (15 mL) fresh lime juice
1 tbsp (15 mL) olive oil
Salt and pepper to taste
INSTRUCTIONS
Combine cucumber, onion, cilantro, mint and jalapeño in a bowl.
Gradually add lime juice and olive oil. Season to taste with salt and pepper.
Can be served with grilled fish or meats or as a salsa choice with tacos or serve as a topping for our creamy cucumber soup.
Contact Us
308 Talbot St. E.
Leamington, ON
Canada N8H 3V6
PHONE 519.326.2339
FAX 519.326.3627